Harga saham perusahaan pertambangan batubara PT Adaro Energy Tbk (ADRO) terus mengalami kenaikan pada perdagangan hari ini, 9 Juli 2016. Hingga pukul 3.02 WIB, saham ADRO telah naik 6,89 persen ke level Rp930 per saham.
Grafik Intraday saham PT Adaro Energy Tbk (ADRO), 9 Juni 2016

Sumber: Bareksa
Kenaikan harga saham ADRO bukan tanpa sebab. Selain sentimen pembangunan proyek pembangkit listrik PLTU Batang serta harga minyak dan komoditas global yang merangkak pulih, kenaikan ini juga didorong oleh pola teknikal yang menunjukkan penguatan harga yang terkonfirmasi sejak akhir bulan lalu. Tidak heran jika saham ADRO mengalami kenaikan harga hingga 31 persen dalam enam hari perdagangan sebelumnya (Baca juga: Harga Saham ADRO Lompat 31% Sepekan, Ini Pendorongnya).
Secara teknikal, saham ADRO terkonfirmasi membentuk pola inverted head and soulder. Pola ini umumnya mengindikasikan sebuah sinyal pembalikan (reversal) arah dari suatu saham yang mengalami tekanan jual sebelumnya.
Meski pola ini telah terbentuk sejak tanggal 22 April 2015 lalu, sinyal pembalikan arah baru terkonfirmasi pada akhir bulan Mei, dimana pergerakan harga saham ADRO mulai membentuk inverted shoulder pada sisi kanan.
Grafik Analisa Teknikal Saham PT Adaro Energy Tbk (ADRO), 9 Juni 2016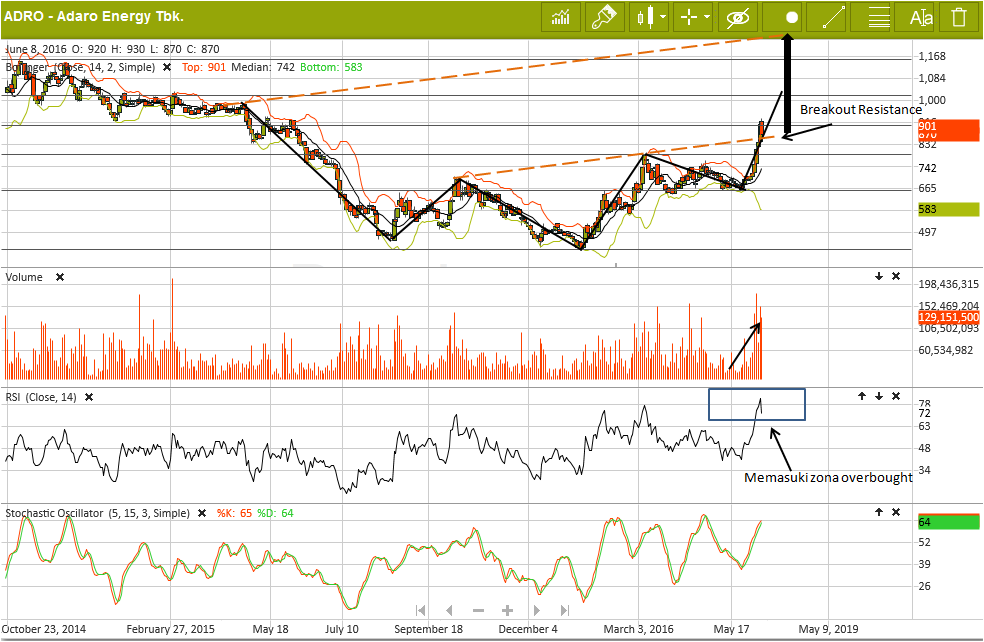 Sumber: Bareksa
Kenaikan saham ADRO diperkirakan akan terus berlanjut, sebab kenaikan ini juga didukung peningkatan volume perdagangan sejak tanggal 2 Juni lalu yang volumenya di atas rata-rata. Selain itu, resisten yang menghubungkan dua peak shoulder telah berhasil dilewati pada perdagangan hari Selasa, 7 Juni lalu. Harga saham ADRO pun diperkirakan dapat terus melaju mencapai level harga Rp1.200 per saham.
Meski demikian, kenaikan ini diperkirakan akan tertahan dalam jangka pendek. Sebab, indikator Relative Strength Index (RSI) sudah mulai memasuki zona overbought.
Prospek Saham PTBA
Tidak hanya ADRO, saham batubara lainnya seperti PT Bukit Asam Tbk (PTBA) juga telah mengalami kenaikan harga yang cukup signifikan sejak awal tahun. Berdasarkan data Bareksa, saham PTBA telah mengalami kenaikan 76,24 persen ke level Rp7.975 per saham.
Didukung tren kenaikan, saham PTBA pun diperkirakan akan terus melanjutkan penguatannya. Secara teknikal, saham PTBA telah berhasil melewati garis resisten pola cup and handle.
Grafik Analisa Teknikal Saham PT Adaro Energy Tbk (ADRO), 9 Juni 2016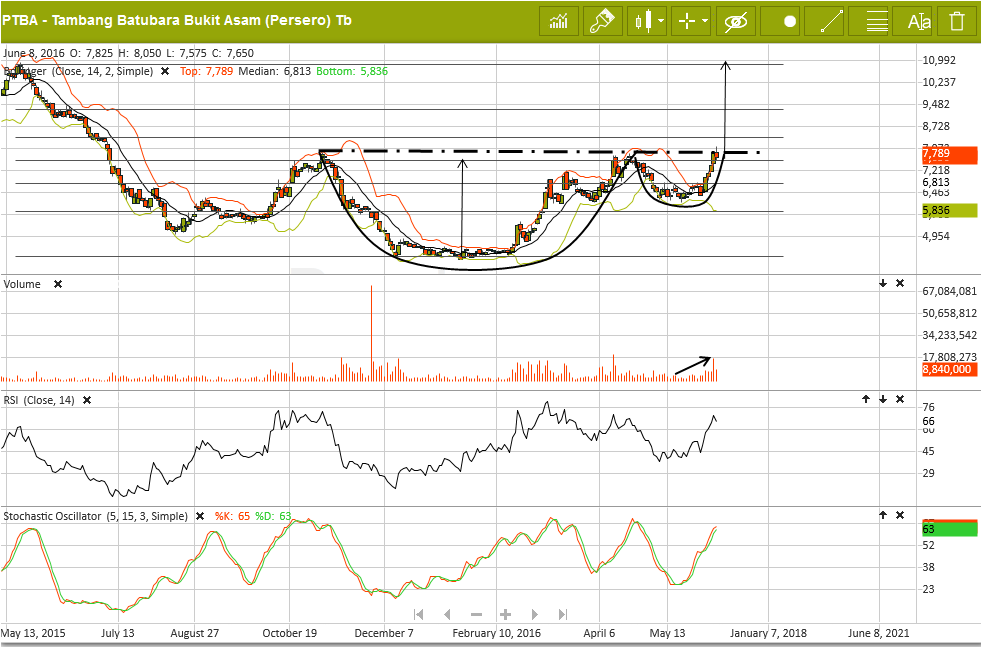 Sumber: Bareksa
Secara teoritis, harga saham PTBA berpotensi menguat hingga ke level Rp11.500 dengan asumsi potensi kenaikan saham PTBA setelah breakout akan sama tingginya dengan tinggi dasar cup hingga puncak handle
Sumber: bareksa